CNC Grinding Machines in Digital Production
At GrindTec 2023 in Leipzig, the Berger Gruppe will present solutions for processing machine blades using robotic technology and intelligent feeding systems.
Debuting at GrindTec 2023 will be the latest generation of the RFS/RT/NT peripheral grinding machine for grinding surfaces and cutting edges and contours on circular knives, saw blades or blanks using the oscillating or plunge grinding process. An additional grinding axis makes it possible to grind multiple bevels on one clamping. This way, the surface of the workpiece can be ground flat and a bevel can be worked onto the cutting edge all in a single work cycle, for example. The circular knife blade is held on the rotating workpiece holder by means of mechanical clamping devices, a permanent magnet or an electromagnet.
The workpiece holder is mounted on a rotary table, which can be continuously adjusted at an angle of -10° to 60°, allowing manufacturers to work a larger range of bevels onto the circular knife blade, the exhibitor explains. After each dressing cycle, the plunge travel is automatically compensated and adapted to the preselected rotational wheel speed.
The workpiece and grinding wheel are changed fully automatically via a handling robot. The robot can be equipped with a specially designed double gripper, allowing it to hold both the circular knife blade and the grinding wheel. The company reports that this robot automation reduces the set-up and/or changeover time for manual loading and unloading, from 30 minutes to three minutes.
Photo: Heinz Berger Maschinenfabrik GmbH & Co. KG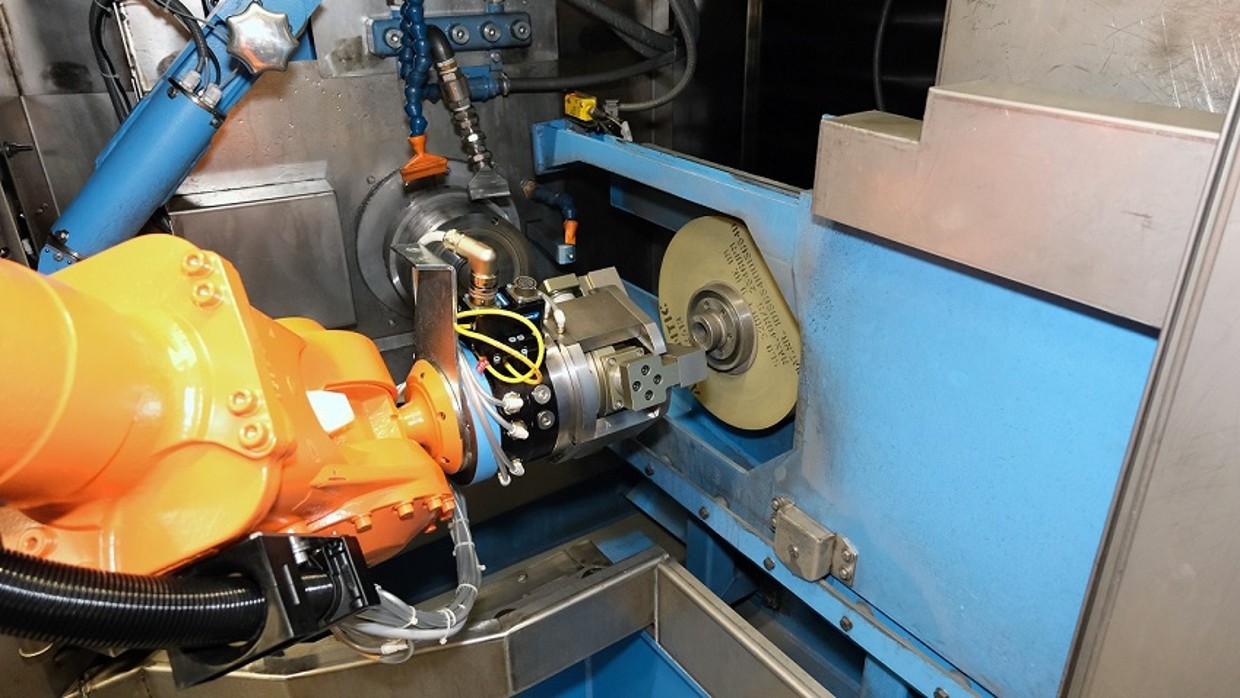 Back to all news